Going for a bike ride has its challenges, such as goodbyes, having to leave dear people, and many other things. But one thing that surely everyone goes through is that doubt WHAT TO TAKE.
With that in mind, we listed below what we carry on each of our bikes.
Banguela (Gustavo's bike)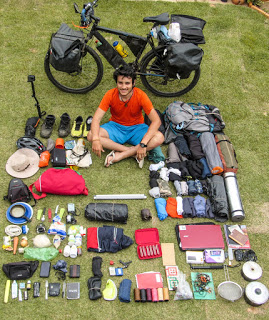 Backpack (where we store the laptop);
clothes;
Sleeping bag NTK 15º C;
NTK self-inflating mattress;
cheetah tent for one person;
NTK thermal insulation;
Luggage-proof canvas (we extend it over the rear saddlebags to ensure everything goes dry, as our homemade saddlebags are not waterproof);
A small cover (those famous from Paraguay, cut in half);
a laptop computer;
-Electronic equipment (batteries, battery charger, mouse, flash drive, memory cards, external hard drive, camera holders);
Books and notebooks (I have not read any, I will have to dispatch them ?;
Crafts (lines, crystals);
Set of bagpipes (I only use two, I will have to dispatch the rest ??);
Capotraste for guitar (whoever knows knows how important it is…);
Banner to expose the project;
Improvised stove for emergencies;
Wallet;
Cell phone;
Brush, toothpaste, floss;
Propolis (sounds strange, but it is an indispensable item !!! It will save your life and your health. It is good for everything !!);
Fanny pack (for us it's the handlebar bag?);
Food, spices, pans, cutlery;
Canon powershot 520 semi-professional camera (which makes it all possible);
hat;
Rain coats;
helmet;
cloth bags;
Dishwashing pot (bouquets and coconut soap);
Kills mosquitoes (we use it only once, and we think it was no use ?);
Mug (which allows you to pick up that coffee and tolls without spending a plastic cup);
Coturno for volunteer work;
Tennis (the usual warrior);
Gopro Hero 5;
rear view mirror;
Picture bag (we made the hand);
2 L bottle holder (made by hand);
Homemade saddlebags (with truck tarpaulin).
Guerrilhosa (Luciano's bike)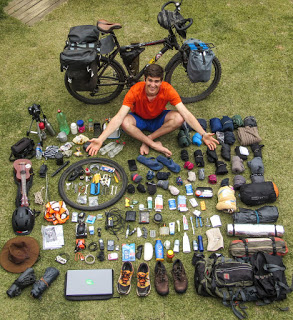 clothes;
Sleeping bag NTK 15º C;
Blanket (the classic of Paraguay ?);
Canvas for emergencies (saves us in camps, in rain showers …);
NTK thermal insulation;
Tent for a cheetah person;
Backpack for laptop (we will definitely ship, it is very heavy);
Medicines (of all these we take, I only used the anti-inflammatory when the knees asked for a stream);
Coturno;
Sneakers;
Sunglasses;
Sunscreen;
Wallets (one is the real one that is hidden and the other is the fake one, which always has a few punches, for possible theft conditions);
Chlorine tablets (to purify waters in conditions of dubious potability (I think we never use too, we prefer to always trust !! It has worked ??);
Electronics (microphones, charger cameras, cell phones, mouse, speaker (we are human right), batteries, flashlights);
Rain coats;
hat;
Reflective vest (almost never used. But we know the need, but these are very large and more hindering help. So when you need, buy one of your sizeoooo);
Notebooks for notes;
String (for possible conditions of anything ??);
Ukulele (his name is Dart Veiderson. We almost never use it … We don't know if we keep taking our little fellow ?);
Tools for maintenance of skinny;
Nikon 520 semi-professional camera;
Homemade stove and fuel;
rear view mirror;
Picture bag (we made the hand);
2 L bottle holder (made by hand);
Homemade saddlebags (with truck tarpaulin).
Basically these would be the equipment !!! Much of this we take because it is important to us. Each one takes what suits your style. At first, we took a lot more things, like a faction, big pliers and even a hammer, but then we came to see that this was only weight and little or never used ??? (laugh not to cry).
Then you must go out and cycle. We don't see the need to spend so much energy focusing on embarking on this already perfect thing. Over the days and months, you are sure to adjust and feel what is really important to you!
Soon we will make videos showing more specifically our kitchen, our mobile workshop and everything!
Source: Pernas de Aço Ecoturismo Instagram: @pernas_de_aco